Maggie Dent is an author, educator, and parenting and resilience specialist with a particular interest in the early years and adolescence. Commonly known as the "queen of common sense" she is OOSH friendly and an avid child advocate.
Maggie has written numerous books and appeared on television and podcasts. Maggie is an advocate for the healthy, common-sense raising of children in order to strengthen families and communities. She is a passionate, positive voice for children of all ages.
Bruce Hurst
Network is excited to announce Bruce Hurst as a presenter at our 2022 conference.
Bruce Hurst, University of Melbourne. Doctor of Philosophy (PhD), Master of Education (M.Ed.)(Research). Bruce's primary research interests relate to OOSH and how we can better include children's views in research methodologies to better understand Outside School Hours Care settings. Bruce is currently assisting the OOSH sector nationally by working on the development of the revised MTOP national learning framework and also resources and support documentation for the newly accredited course Certificate III in Outside School Age Care.
Bruce is an engaging facilitator and has the reputation of taking on topics not fitting the status quo and is willing to challenge common trends in OOSH.
Bruce's masters thesis, based on older children in OOSH, was awarded the Freda Cohen Prize in 2014 for the most outstanding masters research thesis of the year.
"Children have a right to make their points. They will inherit our mess."
Bruce Hurst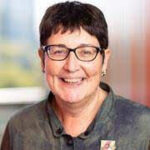 Dr Jennifer Cartmel
Dr Jennifer Cartmel is Network's Ambassador and facilitator at our 2022 Conference. Dr Cartmel is the Program Director of Human Services Programs (Undergraduate and Postgraduate) at Griffith University, and senior lecturer in the School of Health Sciences and Social Work. She has been involved in a wide range of research projects focussing on children's social and emotional learning and in the workforce in children's services, including child care settings and human service organisations.
Most recently Dr Cartmel has been part of the team reviewing, drafting and testing the updated national learning framework 'My Time Our Place' for OOSH. Dr Cartmel will present the team's progress and share some of the proposed recommendations. She will also discuss the update and the impact of children's contributions.